Home » Costa Linda Beach Resort » Awards
RCI Excellence in Service Resort Award

As a member of RCI, Costa Linda members have access to more than 4,200 resorts worldwide, and we welcome countless RCI members to CLBR each year through their exchange program. RCI, known as an entire global travel network and leader of vacation exchange, had one of their representatives, Israel Gonzalez, personally present CLBR with the " RCI Excellence in Service Resort" Award.
Throughout the years CLBR has been receiving the " RCI Gold Crown Resort" award consecutively. This means that CLBR has continuously met and exceeded specific standards in the areas of housekeeping, maintenance, hospitality and front office, through evaluations of resort facilities, amenities and services. We would like to thank and congratulate each employee for this achievement, it is through your hard work and dedication that we are able to achieve these awards.
Aruba Certification Program Award
Aruba Excellence Foundation awarded Costa Linda Beach Resort that is now 100% Aruba Certified.
CLBR saw the importance of the program and decided to commit to this program by encouraging all of their staff to attend the Aruba Certification Program. This Certification Program strongly aims to create and develop unified and consistent knowledge of our tourism industry and Aruba in General. Mrs. Marlyn Maduro, Human Resources Manager, received the recognition award. We would like to thank Aruba Excellence Foundation for this opportunity.
𝗖𝗼𝗻𝗴𝗿𝗮𝘁𝘂𝗹𝗮𝘁𝗶𝗼𝗻𝘀 𝘁𝗼 𝗮𝗹𝗹 𝗼𝗳 𝗼𝘂𝗿 𝗲𝗺𝗽𝗹𝗼𝘆𝗲𝗲𝘀 𝗳𝗼𝗿 𝗰𝗼𝗺𝗽𝗹𝗲𝘁𝗶𝗻𝗴 𝘁𝗵𝗲𝗶𝗿 𝗰𝗲𝗿𝘁𝗶𝗳𝗶𝗰𝗮𝘁𝗶𝗼𝗻.
Costa Linda Beach Resort Wins 2021 Tripadvisor Travelers' Choice Award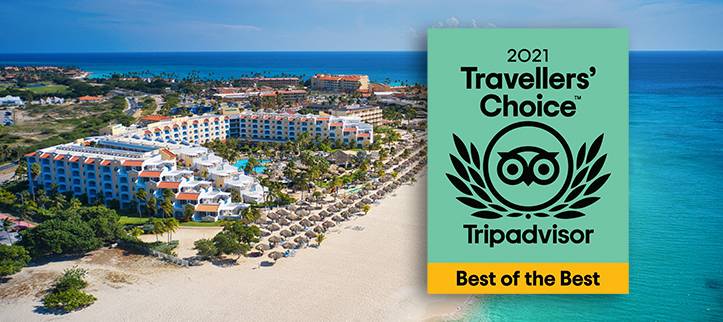 Costa Linda has been recognized as a 2021 Travelers' Choice award winner for Best Resort in Aruba. This achievement celebrates businesses that consistently deliver fantastic experiences to travelers around the globe, having earned great traveler reviews on Tripadvisor over the last 12 months. As challenging as the past year was, Costa Linda Beach resort stood out by continuously delighting travelers.
"Congratulations to all the winners of the 2021 Travelers' Choice Awards," said Kanika Soni, Chief Commercial Officer at Tripadvisor. "I know the past year has been extremely challenging for tourism businesses. What has impressed me is how businesses adapted to these challenges, implementing new cleanliness measures, adding social distancing guidelines, and utilizing technology to prioritize guest safety. The Travelers' Choice Awards highlight the places that are consistently excellent - delivering quality experiences time and time again even while navigating changing customer expectations and new ways of working. Based on a full year of reviews from customers, this award speaks to the great service and experience you provided guests in the midst of a pandemic."
Costa Linda Beach Resort awarded TripAdvisor Certificate of Excellence for five consecutive years.
In Costa Linda Beach Resort we are proud to announce that we have been recognized as a TripAdvisor Certificate of Excellence Hall of Fame winner. The Certificate of Excellence award celebrates excellence in hospitality and is given only to establishments that consistently achieve great traveler reviews on TripAdvisor. The 'Hall of Fame' was created to honor those businesses that have earned a Certificate of Excellence for five consecutive years. Winners include accommodations, eateries and attractions located all over the world that have continually delivered a superior customer experience.
Being awarded the TripAdvisor Certificate of Excellence five years in a row and inducted into the 'Hall of Fame' is a true source of pride for the entire team at Costa Linda Beach Resort and we'd like to thank all of our past guests who took the time to complete a review on TripAdvisor. There is no greater seal of approval than being recognized by one's customers. With the TripAdvisor Certificate of Excellence based on customer reviews, the accolade is a remarkable vote of confidence to our business and our continued commitment to excellence.
"Winning the TripAdvisor Certificate of Excellence for five consecutive years is a remarkable feat. TripAdvisor is pleased to induct five-time award winners into the 'Hall of Fame'," said Marc Charron President, TripAdvisor for Business. "By putting a spotlight on businesses that are focused on consistently delivering great service to customers, TripAdvisor not only helps drive an improvement to hospitality standards around the world, it also gives businesses both large and small the ability to shine and stand out from the competition."
Back to top