Home » Costa Linda Beach Resort » Amenities
Amenities at Costa Linda Beach Resort
Pools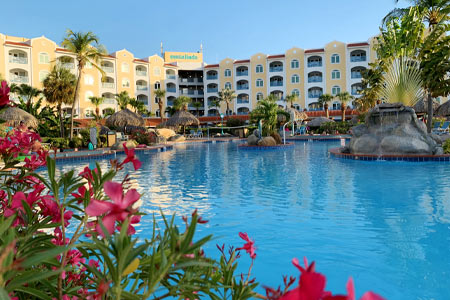 Enjoy poolside sunbathing or spend hours of watery fun in an aerobics class or pool volleyball, or relax in one of the Jacuzzis. Take your little ones to our Kiddie pool, which is suitable for tots up to six years old. Pool and Jacuzzi hours are from 9 a.m. to 9 p.m.
Pool and beach rules are for your safety and comfort. They will be firmly enforced in order to protect the health and safety of all our guests: Children under three (3) years old are not allowed in the main pool. Children who are not potty trained, in diapers or swimmies are not allowed in the main pool. This is to minimize the chance of accidents that would shut the pool down and interfere with all members' and guests' rights to enjoy the pool every day of their vacation.
---
Fitness Center
Keep up with your daily workout at the Fitness Center where you'll find variety of exercise machines to help you stay in shape. The gym staff is on hand to help you and provide towels to dry the equipment.

Please wear proper attire: shirt, short and sneakers. Children under the age of 15 must be accompanied by an adult. The gym is located behind the elevator landing (A-B Wing) on the lobby level and is open daily from 7 a.m. - 11 p.m.
---
A Taste of Heaven Spa & Salon
You come down to Aruba to enjoy the warm sunshine, soft breezes and the healing touch of clear blue waters, why not take your vacation relaxation to a whole new level with a visit to the Taste of Heaven Spa & Salon?
---
Tennis courts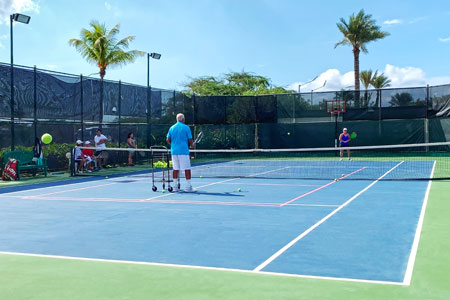 Challenge your friends to a game, there are two lighted tennis courts located to the south of the main entrance of the resort. Court hours are from 7 a.m. to 11 p.m. and there is a nominal fee for night play. You may use the courts for one hour a day. Reservations at the Front Desk or call Ext. 5 or 6.
---
Gift Shop
Before you start your island shopping spree, call in at the Gift Shop area of Tropical Temptations. It's convenient, well-stocked and prices are competitive. Whether you are looking for a new swimsuit or cover up and a straw hat or beach bag in tropical colors to match or a colorful wooden gift for a friend back home, you'll find it here. Open daily from 8 a.m. to 9:30 p.m.
---